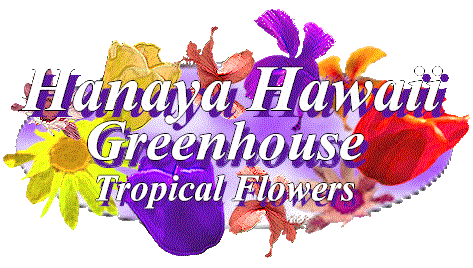 Hanaya Hawaii. Welcome to a better way to buy beautiful tropical flowers! Unlike most other retail florists we actually grow the flowers and plants that we sell. Buying direct from the flower grower has many advantages other than the substantially lower price. The flowers are fresh and vine ripened so to speak. We have total control over the flowers so we can fill special requests such as special arrangements for all occasions. We know our prices are great and encourage you to shop around because we know you will not find top quality flowers for a better price. Our many years of Island growing and selling of tropical flowers is the reason. All orders are guaranteed to arrive in good condition. Click Here to See Flowers!!

Business hours are generally 7 AM to 7 PM Monday through Sunday. If the recorder picks up, please leave us a message, we are frequently tending to our plants.

Also please note that Hawaiian Standard Time (HST) is 6 hours behind Eastern Standard Time (EST) and 3 hours behind Pacific Standard Time (PST).

All shipments are delivered priority mail or Federal Express. All leis are shipped Fed Ex. We are happy to fill special orders. We reserve the right to substitute equal value and quantity.
---
Contact Information
Telephone

800-856-6467

Fax

559-677-8572

Postal address

11 Furneaux Ln.
Hilo, Hi., 96720

Electronic mail

General Information: info@hilo.org
Sales: sales@hilo.org
Customer Support: support@hilo.org